SUMMER PROGRAMS
RECREATIONAL CAMPS 2019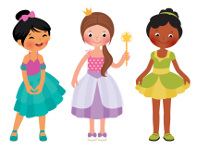 PRINCESS DANCE CAMP
This is a 2 day camp where you will dance like a princess, design a magical wand and create a beautiful princess craft! Dancers will receive the royal treatment with ballet, creative movement, games and activities. Includes a peanut free snack.
Date: July 23rd & 25th
Time: 10:00 a.m. – 12:00 noon
Age: 2.5 years – 5.5 years
Cost: $45.00
CARNIVAL & CIRCUS CAMP!
This is a one day camp. Your camper will love dancing through the carnival and circus themes! Camp includes arts & crafts, obstacle courses, fitness and fun activities for all! Camp also includes snack time and lunch with peanut free pizza!!
Date: July 31st Time: 9:30 - 12:30 Age: 4 years - 8 years Cost: $40.00
RAINBOW AND UNICORN CAMP
Join us for this 2 day camp filled with Rainbows, Unicorns and loads of SPARKLES! Campers will enjoy magical mornings galloping, prancing and other sparkly activities. Campers will create a rainbow craft and will be served a peanut free snack.
Date: August 6th & 8th
Time: 10:00 a.m. – 12:00 noon
Age: 3 years – 7 years
Cost: $45.00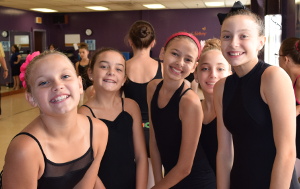 DROP - IN CLASS
Stay in dance shape by attending this class to maintain your flexibility, strength as well as memory retention. It is important for all dancerst to continue to take class so that you can start your season at your best! Class will contain stretch & strength, technique as well as across the floor movement and combination; it will be a jazz based class.
DATES: Wednesdays July 10th, 24th, 31st and August 7th. TIME: Teams 2-4 / 5:00 - 6:00 p.m. - Teams 5-8 / 6:00 - 7:00
COST: $10.00 - Pay at the door
PRODUCTION ROUTINE
Students who are members of the DSW Dance Company during the 2018-2019 seaseon are eligible to register for the annual Production Routine Choreography. Students will learn a piece of choreography in production format and will compete this routine throughout the season as well as perform in our annual shows. Students must be available on Sunday August 11th and Wednesday September 11th. Class times will be decided after registration is closed and rosters have been created.
DATES: August 11th, September 11th TIME: TBA COST: $125.00 PP Note* there will also be a costume charge
2019 SUMMER INTENSIVE **REGISTER BY MAY 1ST AND SAVE $25.00
DATES: August 12th – 15th
TIME: Approximately 9:00 a.m. – 2:00 p.m. full day OR Noon - 5:00 p.m.
Approximately 9:00 a.m. – Noon half day
COST: $325.00 – Full day - ** $300 IF REGISTERED BY MAY 1ST
*The studio will assign the camp sessions once registration has been closed.
We are excited to announce our Summer Intensive program will be back for its fourth year. Dancers will experience classes in tap, ballet, jazz, ballroom, contemporary, improvisation and more; including a few surprises from amazing guest teachers and staff members.
Dance Studio of Wakefield competition team members ages 8 and older who register for the full day program will also have the opportunity to sign up for "Add on Choreography."
This program will give students an amazing advantage to advance their training before heading into the new season. An accurate schedule along with faculty bios will be available once sign-ups have closed. This program is highly recommended for new and returning competition team members.
CHOREOGRAPHY ADD – ON (For Dance Studio of Wakefield students only)
COST: $200 per person / per piece DATES: August 12th - 16th
Students will have the opportunity to learn choreography for the 2019/2020 competition season by a member of the Intensive Week Faculty. A detailed choreography shcedule will be given out the week before the Intensive Week begins. Dancers must be a minimum of 8 years of age by December 31st and a member of the 2018/2019 as well as a returning member for the 2020 season competition team. Choreography will be taught late afternoons and evernings during the Intensive Week. Students must be available for the scheduled times given to them including Friday August 16th.
REGISTRATION WILL CLOSE JUNE 22nd FOR THE INTENSIVE CHOREOGRAPHY-AD ON AND WILL BE LIMITED TO AVAILABLE SPACE ONLY.